Giving Grades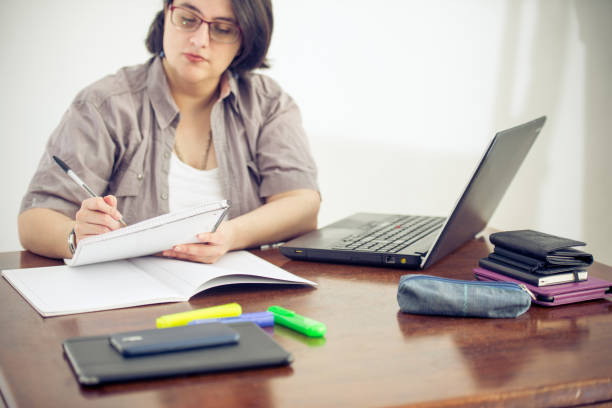 A common question amongst homeschoolers is "how do I give grades?" The question comes up when folks enter the arena as newbies and again as they enter the high school years. I had a simple system that worked great for me and was easy to keep up with.
I had one page for each student for each semester that I kept in my teacher notebook on my desk. That page had a chart for each subject that the student was working on that semester. The more daily work there was for that subject, the more cells there were in the chart.
Daily grades were written in pencil; quizzes and tests were written in red ink. Unit tests counted double, so they were written down twice in red ink. (I didn't give unit tests like this until middle school though.) As students got older and received grades for reports and research papers, I graded them according to how much time they took. So, if a report took a whole week, I graded it similar to a test with one red ink score; however, if it took multiple weeks, I counted it as a double red ink score. If a project/paper took an entire semester, it might warrant four red inks.
Then there was the weekly high school discussion grade score. We discussed things in almost every subject, but I didn't give discussion grades in everything. However, I did want my students to become cognizant of the fact that in college that would be graded on participation. Typically I stuck to grades in history only and I followed an outline provided by the curriculum (Tapestry of Grace).  My boys knew ahead of time that they needed to prepare certain questions ahead of time in written form, and others they just needed to know the answers in preparation for the discussion.
If the student could carry on a well-rounded discussion, I gave him about a 93 (the lowest number for an A). However, if he didn't seem prepared, or didn't know the material well at all, he might get an 80 (C). On the other hand, if he did in-between, I typically gave him an 88 (B). Those were just the numbers I came up with, and you may find that you prefer others.  If he got a C that week, I had him go back and write down the answers to the questions that I had him originally only think about.
Back to filling in the chart…as an example, doing the day's spelling page would result in a pencil grade, but the spelling test at the end of the week would be a red pen grade. Since I only had to turn grades in at the semester break, I would then average them at that point and write the average in the top right corner.
If you'd like a blank Word document example to work from, just contact me and I'm glad to send you one.